Our Global Clients
We provide 4 in 1 services to WFOEs in Taiwan, Beijing, Xiamen, Shanghai, Guangzhou, other China Area, California and Tokyo. The 4 in 1 services include four functions: Accounting and Tax Compliance, Treasury and Web-Banking Maker, Payroll Compliance, and Cloud System Provider. WFOE means Wholly Foreign Owned Enterprises.
Your WFOE in Asia need not to recruit any local accountant, treasury, payroll handler and IT persons in adopting our services.
As of May 2020, we already have more than 1000 BPO Global clients
Location of our Clients
Taiwan: Taipei, Hsinchu, Taoyuan, Tainan, Kaohsiung.
China: Xiamen, Shanghai, Suzhou, Hangzhou, Zhejiang Kinghua City, Anhui Hsiang Zhen City, Jiangxi Hueichang City, Shandong Tszbao City, Hubei Hsiangfan City, Beijing, Kuanzhou City, Shenzen City, Chongqing City, Harbin City, Hong Kong, Macau.
USA: Los Angeles, San Francisco.
Singapore
Japan
Korea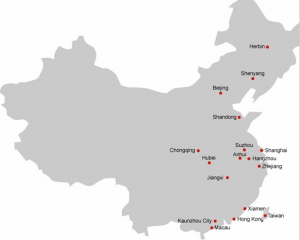 Location of our Clients' Parent Companies (2010/07/31)USA, Canada, U.K., France, Germany, Iceland, Netherlands, Italy, Iran, India,  Dubai, Thailand, Singapore, Hong Kong, Taiwan, China, Korea, Japan.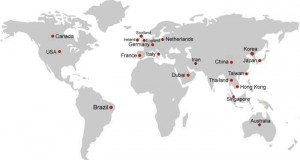 List of Parent Companies
Faiveley from France www.faiveley.com
Centrotherm from Germany www.centrotherm.
deLaperla from Italy www.laperla.com
SVI from Thailand www.svi.co.th
Scinco from Korea www.scinco.com
DCHL in Japan from Taiwan www.dchl.co.jp
YP Chemical in China from Taiwan www.yingpengchemical.com
Cave Gontero from Italy www.cavegontero.com
RBC Life Sciences from Texas, USA www.rbclife.com
BRI Asia from North Carolina, USA www.briworldwide.com
Elonics from UK www.elonics.com
Erec Group from Singapore
Royal Canin from France www.royalcanin.com
Titoma from Netherlands www.titoma.net
Tyco from U.S.A.   www.tyco.com
Altasens from Silicon Valley,USA www.altasens.com
Tessera From silicon Valley, USA www.tessera.com
Gardener Denver From Denver USA www.gardnerdenver.com
Contact Us
del2tw@evershinecpa.com: Taiwan Area
del2cn.south@evershinecpa.com: Xiamen, Guangzhou and South China Area
del2cn.north@evershinecpa.com: Beijing  and other Northern China Area
del2cn.east@evershinecpa.com: Shanghai and other Eastern China Area
kerrychen@evershinecpa.com: Cities in Other Area of China
Additional Information
Evershine has its 100% owned office to provide you services in:
Taipei, Beijing, Shanghai, Xiamen, Hangzhou
We have been providing our services with our partners in:
Kaohsiung Taiwan, Singapore, Hong Kong, Tokyo Japan, Hangzhou China,
Nanjing China, Guangzhou China, Kuala Lumpur Malaysia
We can arrange co-serving partners for other locations not mentioned above, please click the links to find out more: IAPA Members and LEA Members. There are many Evershine CPAs Firm assoicates around the world. We have around 980 firms with 38,000 employees in about 450 cities. If your firms are located in the above-mentioned cities, we can serve you right away.
Please contact us through HQ4del@evershinecpa.com
More services in more cities please click Sitemap